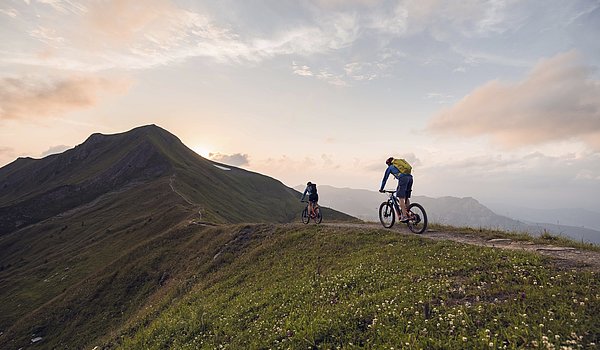 2 wheels, 1 goal
RIDING TOWARDS HAPPINESS
Pedal, breath, keep your balance. Every now and then, let your gaze wander and marvel at the mountains: This is how free mountain biking can make you feel in Damüls. Here in the highest biking area between the Biosphere Park Großes Walsertal and the Bregenzerwald, numerous small roads and forests paths wind through the alpine mountain paradise. You can start directly from the hotel. If you prefer a little bit of help at the beginning, you can take your bike up to the mountain station with the Uga-Express and start the tour on a high.
Touring the mountain world on two wheels is probably one of the most beautiful ways to experience our region in all of its facets. Damüls makes the heart of every cyclist beat a bit faster.
Damülser circular tour
The tour starts at the mountain station of the 4-person chair lift Uga-Express in Damüls and runs past the reservoir zum Hohen Licht (2009 m). If you like, you can take a side trip to the Damüls Mittagsspitze (2095 m). The tour continues to Hochblanken at 2068 m and from there to the mountain station of the 6-person chair lift Ragaz and the Ragazer Blanken (2051 m). Here you can enjoy breath-taking views of Lake Constance, the surrounding area, and the distant surrounding peaks. The tour continues further on to the Sünser Spitze. If you like, you can stop at the lake Sünsersee, and then continue from Sünserjoch over the Sieben Hügel to Oberdamüls and back to the hotel.
Argenalpe circular tour
Starting from the valley station of the 4-person chair lift "Uga-Express", follow the road towards Walisgaden. When you reach Walisgaden, the terrain changes from a tarred road to a gravel road. Arriving from the Vordere Uga Alpe, the path leads down steeply to the Lauben stream. From here a road climbs up towards the Hintere Uga Alpe and then later the Mittlerer Argen Alpe. Going up to the right from the Mittleren Argen Alpe, the Argenwald Alpen descent starts down to national road 193, which you can then follow towards Damüls again to the valley station for the 4-person chair lift Uga-Express. Duration: 4:30 h
Short Uga circuit
Starting from the Uga valley station, the road winds past the Hotel Alpenblume towards Riedboden. Take the first deviation to the left, which is marked by a farm, and follow the road towards the Sunnegg parking area. Passing by Krumbach, you will come back to the starting point. Duration: 0:30 h