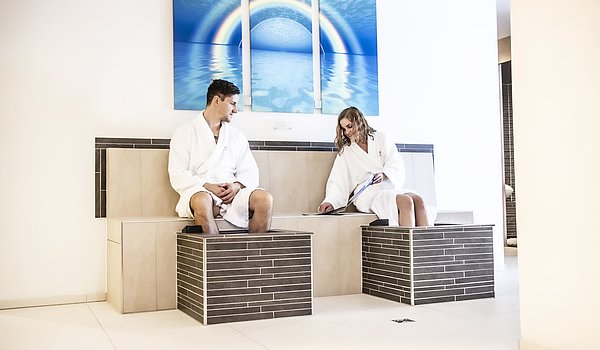 Water
REFRESHMENT FOR YOUR MIND
Aroma steam bath
SURROUNDED BY FRAGRANT VAPOURS
The ratio between heat and moisture is exactly the opposite of the classic sauna. With temperatures between 40 °C and 60 °C, the humidity in the steam bath is up to 100 %. This combination of soft warmth and humidity eases tension, cleans and acts as a balsam for your airways.
Multi-sensory showers
A CONTRAST BATH OF FEELINGS
They differ from standard showers due to the different aromas, colours and different types of sprays that pleasantly massage your skin and stimulate circulation. All of your senses feel the effects and make a shower a real experience.
Kneipp foot therapy basins with massage
WATER MARCH
Feet are an evolutionary wonder and give us extraordinary support. They help us walk upright. Due to daily use, feet become dry, rough and sensitive. A massaging foot bath is relaxing and makes you feel good right down to the tip of your toes.
Textile steam bath
DIVE INTO A NEW WORLD
Little wellness fans can enjoy their first sauna in the textile steam bath. This area is meant for children and as a family steam bath. Here you can take a seat in your swimwear and relax together.