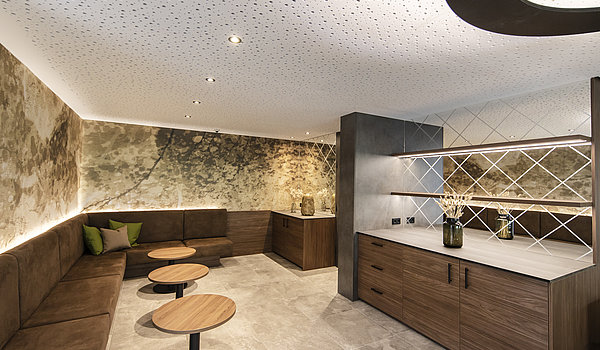 Earth
FERTILE GROUND FOR NEW ENERGY
Bio sauna
HEART-WARMING, ENERGY ZONE
A bio sauna with a temperature of 50 °C is ideal for everyone who prefers a gentle spa experience. It is easy on your circulation and promotes blood flow. Toxins are eliminated and the skin is thoroughly cleaned.
Ice fountains
AN INVIGORATING TINGLING Ice-cold crystals trickle softly on heated skin. You can still feel their refreshing effect even hours later. Your circulation gets stimulated, your immune system is strengthened and your skin is tightened. An unusual boost of freshness that you shouldn't miss out on.
Quiet room
ROOM FOR RESETTING
Find yourself while observing the treasures of the earth: the mountains, forests, sun and rain. Quite moments are like a little holiday for our body. You have to do something good for your body now and then to bring joy to your spirit.
Silent room
STRENGTH LIES IN STILLNESS
Ground yourself, let go and be free. Take a rest, meditate and find yourself. Here you will only hear the sound of your own breath, and nothing more. These quiet moments let ideas come forth and dreams develop.