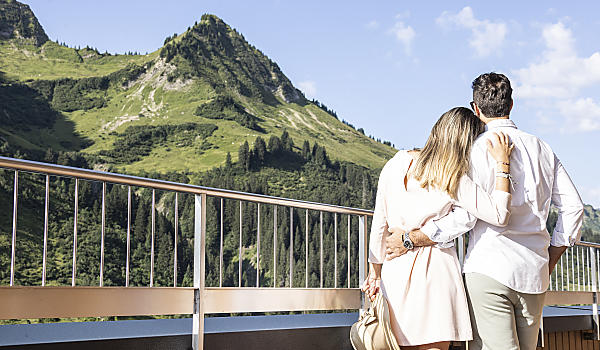 Air
BREATHDEEPLY AGAIN
Aroma columns
AROMAS WAKE UP EMOTIONS
There is hardly anything that shapes our life as deeply as aromas. They determine our general wellbeing, they convey feelings of happiness and security and wake up forgotten memories.
Fresh air room
OFF TO THE OXYGEN SHOWERS
After a sauna session, a special boost of freshness is waiting for you in the open. Whether in the summer sun or a snow flurry - here you will feel how the clean Damüls mountain air flows into your lungs and softly cool your airways.
Sunbathing lawn
MEADOW FRESH AROMAS AND WELLBEING
Your front-row seat below the stars Here you can relax face-to-face with the mountain world of Bregenzerwald. Sit, lie down, chat and bask under the sun – while being surrounded by untouched nature and fresh mountain air.
Energy zone
ENERGY IS IN THE AIR
You will find a special energy zone in our garden, where mysterious energies will have their effect on you. In the centre there is a "Marterl" statue. Recharge your batteries and give your thoughts free reign.